Tribute Lao Tseu H.16cm Chrome-plated
Born amongst a family of peasants, Francesco Marino di Teana was successively a shepherd, a mason in Italy (Teana), site foreman, architect and student at the Art University of Argentina before moving to Paris in 1953. He was a painter, sculptor, architect, poet and philosopher and becomes one of the major sculptors of the 20th with his theories on "tri-unitarian" logic and architectural sculpture. Represented for more than 20 years by the mythical Denise René gallery and winner of prestigious artistic prizes, he was acclaimed by some of the greatest creators and art critics of his time. Precursor of the Monumenta's at the Grand Palais with the exhibition of his monumental fountains (9 m high for 16 long), that he made with Saint-Gobain (Glass and industrial materials company), he has raised more than 40 monumental sculptures throughout France, one being the highest iron sculpture in Europe, "Liberté" (Liberty), that is 20 meters high (at Fontenay-sous-bois). His lifetime work was the object of a retrospective in 1975 at the Paris Museum of Modern Arts, he represented Argentina at the Venice biennial of 1982, and won the academy of fine arts prize in 2009.
Description
The Work
"I discovered the writings of Lao Tseu when I was young. His reflections have always fascinated me and I felt the need to make a tribute to him, as a sculpture or a painting. My work "Tribute to Lao Tseu" is the fruit of my repeated reading of the Tao Tö King (the Book of Path and Virtue)".
In the 1970's Francesco Marino di Teana starts conceiving compositions that he liberates from their earthly properties (weight, shapes, materials) thanks to the work on cognitive space.
It is during that time that he makes his most iconic works such as "Hommage à Lao Tseu" (Tribute to Lao Tseu), that makes reference to oriental philosophy but also the multiple cultures that he represented (France – Italy – Argentina). Embodying the equilibrium of energies, this sculpture is composed, in the centre, of four same size vertical pillars who create a perfect base to the four horizontal lances that point in different directions whilst projecting themselves to the exterior. Its simple and refined profile, underlined by the mat of chromed iron, brings to mind either the bow of a vessel and a diapason hence becoming a plural symbol of Nature and Culture.
—
Edition "ART FOR ALL" by Galerie Loft,
Silver plated cast iron,
Dim. of the box : 20 x 13 x 5,5 cm.
Signed with the artist's stamp, edition of 300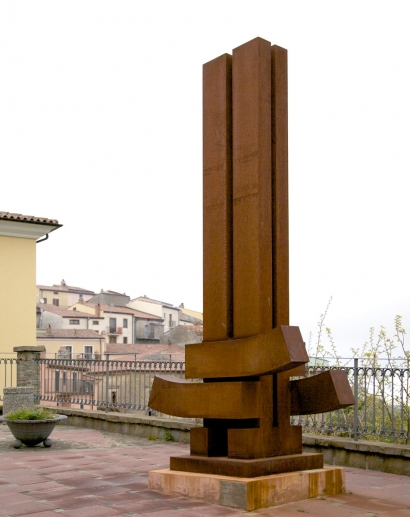 Francesco Marino Di Teana H.4m, Lao Tseu, 2008, installée à l'entrée du village natal de l'artiste, Teana (Italie)
Additional information
| | |
| --- | --- |
| Weight | 750 g |
| Dimensions | 16 × 8,5 × 4 cm |
| Year | 2019 |
| Material | Cast iron, Cast iron |
| Signature | Signed with the artist's stamp, Signed with the artist's stamp |
| Tirages | Edition of 300, Edition of 300 |
oeuvres
Cet artiste vous propose aussi