Born amongst a family of peasants, Francesco Marino di Teana was successively a shepherd, a mason in Italy (Teana), site foreman, architect and student at the Art University of Argentina before moving to Paris in 1953. He was a painter, sculptor, architect, poet and philosopher and becomes one of the major sculptors of the 20th with his theories on "tri-unitarian" logic and architectural sculpture. Represented for more than 20 years by the mythical Denise René gallery and winner of prestigious artistic prizes, he was acclaimed by some of the greatest creators and art critics of his time. Precursor of the Monumenta's at the Grand Palais with the exhibition of his monumental fountains (9 m high for 16 long), that he made with Saint-Gobain (Glass and industrial materials company), he has raised more than 40 monumental sculptures throughout France, one being the highest iron sculpture in Europe, "Liberté" (Liberty), that is 20 meters high (at Fontenay-sous-bois). His lifetime work was the object of a retrospective in 1975 at the Paris Museum of Modern Arts, he represented Argentina at the Venice biennial of 1982, and won the academy of fine arts prize in 2009.
Description
The work
« Vigor, balance, majesty, interior light emanating from an admirable structuration: the master's signature is there, identified by the orthogonal momentum and by the subtle alternation of curved planes and straight lines. Facing the sculpture, we get the insidious but very insistent feeling that the author of this composition is imbued with nostalgia for the epoch of cathedrals. »
Jean-Luc Épivent, revue L'Empreinte N°15, december 1991 .
In the 90's, Francesco Marino di Teana conceives compositions where the elements are liberated from their physical properties. Thanks to his work on the cognitive space, he reworks geometrical shapes of apparent simplicity that hide an incredible complexity in their arrangement.
It's the era of his most symbolic works such as Liberté (Liberty). Erected in 1990 in a 20m high monumental format at Fontenay-Sous-Bois (France) the lines and voids of the work multiply to better create a ballet of extreme precision, exploring curves in the continuity of his researches on the disintegration of the circle. He hence reveals the movement and the rhythms that are able to be extracted from metal, be it in the shape of a gigantic monument of over 100 tons or a sculpture that can be held in the palm of our hand.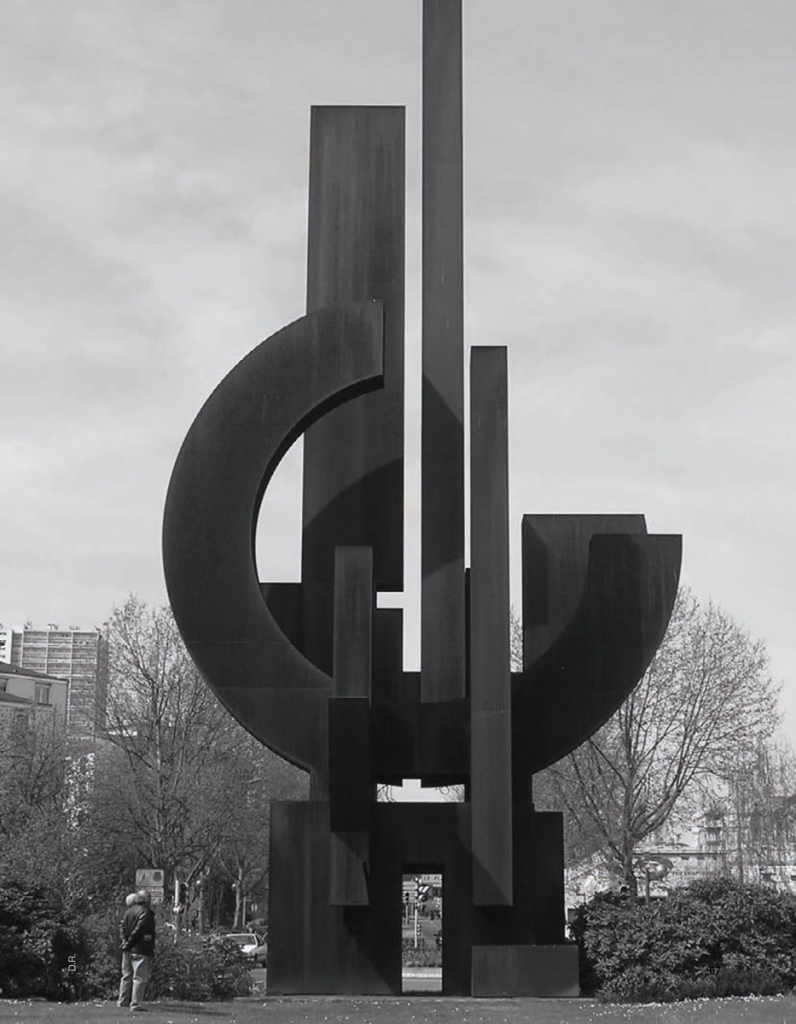 Additional information
| | |
| --- | --- |
| Weight | 1100 g |
| Dimensions | 20 × 10 × 9 cm |
| Material | Cast iron |
| Tirages | Edition of 300 |
| Signature | Signed with the artist's stamp |
| Year | 1979-90 |
oeuvres
Cet artiste vous propose aussi