With his well-known comic books Lone Sloane or Xcalibur, his participation to the iconic comic magazines Pilote or Humanoïdes Associés, the elaboration of 3D animation and even drawing and making entire film sets, Philippe Druillet (born in Toulouse in 1944) has pulled us into his own universe and opened new windows to the "9th art". His contribution to the renewal of the composition and redefinition in the outlining in the first comic strips that he creates at the end of the 1960's, have profoundly nourished and modified the comic book world, but also that of illustration, cinema and video games. He is a unique author who will influence Jean Giraud in the evolution of his alter ego Moebius and Georges Lucas in the graphic conception of Star Wars. As a pioneer artist he is one of the milestones of our visual universe. A true genius of comic book making and a myth in the universe of science fiction, he is still today a great source of inspiration and a major influence to entire generations.
Description
THE WORK
"Comics is an art of the future". Philippe Druillet
The life and work of Philippe Druillet has always been guided by this conviction. His revolutionary compositions characterised by an edgy stroke are filled with obscene anti-heros, pitiless space warriors and deformed fantastic creatures in never ending galactic and gothic architectures. Immensely creative theses beings of obscure and abyssal worlds he gave birth to, have found a way into any material support within in his reach, comic strips, film posters but also paintings, furniture, sculptures or 3D animation.
At the end of the 1970's, he makes a little sculpture of a warrior, cold and stiff in his metal armour, ready to awake from a millennial sleep and charge into battle. His name is ITAÏ, still guardian of time, who watches us in silence with his piercing eyes. His silhouette reminds us of VUZZ, a cynical and mad adventurer that is now petrified in his metal mausoleum. Esthetized by pure curves, the reckless is ennobled. Freed of his flesh he becomes impenetrable, inscrutable and mystical, like a god of a forgotten religion, a fetish, a totem, or an emblem.
—
1979 – Éd. 2019
Painted metal cast or vanished.
Bronze or red color.
H. 11,5 x L. 7,5 x P. 4,5 cm – 930 gr.
Signed below and numbered 300 copies.
Dim. of the box : H. 14,5 x L. 10 x P. 6 cm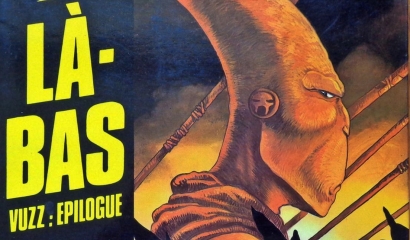 Philippe Druillet, Vuzz : épilogue, Les Humanoïdes Associés, coll. Métal Hurlant, 1982.
Additional information
| | |
| --- | --- |
| Weight | 93 g |
| Dimensions | 11,5 × 7,5 × 4,5 cm |
| Année | 2019 |
| Material | Cast metal, Golden bronze color, Cast metal, Golden bronze color |
| Signature | Engraved signature, Engraved signature |
| Tirages | Edition of 300, Edition of 300 |
| Dim. de la boite | H. 14,5 x L. 10 x P. 6 cm |
oeuvres
Cet artiste vous propose aussi