AUBE Limited copper version
Born amongst a family of peasants, Francesco Marino di Teana was successively a shepherd, a mason in Italy (Teana), site foreman, architect and student at the Art University of Argentina before moving to Paris in 1953. He was a painter, sculptor, architect, poet and philosopher and becomes one of the major sculptors of the 20th with his theories on "tri-unitarian" logic and architectural sculpture. Represented for more than 20 years by the mythical Denise René gallery and winner of prestigious artistic prizes, he was acclaimed by some of the greatest creators and art critics of his time. Precursor of the Monumenta's at the Grand Palais with the exhibition of his monumental fountains (9 m high for 16 long), that he made with Saint-Gobain (Glass and industrial materials company), he has raised more than 40 monumental sculptures throughout France, one being the highest iron sculpture in Europe, "Liberté" (Liberty), that is 20 meters high (at Fontenay-sous-bois). His lifetime work was the object of a retrospective in 1975 at the Paris Museum of Modern Arts, he represented Argentina at the Venice biennial of 1982, and won the academy of fine arts prize in 2009.
Description
Artwork
"This work is the most perfect and harmonious form created by Marino di Teana. The balance established here between mass and space is incomparable: we see the effect produced by two halves close together but not face to face, separated by a space which, in their interval, becomes geometric, shapeless and timeless because the shape is given to it by the contrast of the opposing masses".
Tomás Alva Negri, in Marino di Teana, ed. by Arte Gaglione, Buenos Aires, 1987.
From the 1960s, Marino di Teana began a real work of exploration around the shape of the circle. He initially endeavored to break them down before creating the sculpture "Aube" in 1977, the most telling example of his tri-unitarian theory "1 + 1 = 3". In this work, which marks a real plastic and aesthetic maturity of the artist, the energies are concentrated to the maximum, crystallized in the heart of a space charged with all the density and power of the composition. Like the sunrise it evokes, it traces a ray of light, a hyphen linking sky and earth, lines and masses, voids and solids. Having become an iconic sculpture by the artist, it was produced in several sizes, notably in monumental format (Le Havre, Height 4m 50) before being available today in the Art for All collection.
—
"ART FOR ALL" edition by Galerie Loft,
Copper limited version,
1977 – Ed. 2021,
H.11 x W.10 x D.2 cm – 570 g,
Cast metal, copper finishing,
Signed with the artist's stamp on the bottom and numbered at 300 ex.
Dimensions of the box with protective case: 15 x 15 x 4.5 cm.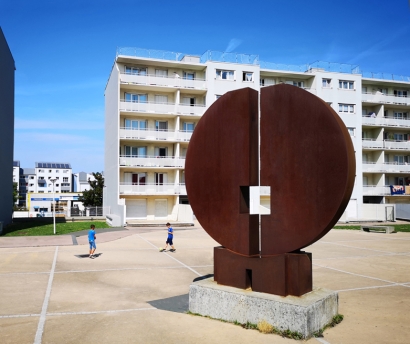 Dawn, 1977-1989. Corten steel, H. 450 cm,
Le Havre (Normandy-France).
Additional information
| | |
| --- | --- |
| Dimensions | 11 × 10 × 2 cm |
| Year | 1977 – Ed.2021 |
| Material | Cast iron, copper finishing, copper finishing, Cast iron |
| Tirages | Edition of 300, Edition of 300 |
| Signature | Signed with the artist's stamp, Signed with the artist's stamp |
oeuvres
Cet artiste vous propose aussi