Art is a language, a unique form of expression that allows artists to experiment as well as for the public to have intense and new feelings. Amongst these artists that have in the 20th century known how to question the world, there is a man who, in his 96th year of age, has preserved his desire to explore and continues to work on these ways to communicate. BERNARD QUENTIN was born in 1923 in Flamicourt (Picardie, France). After the Second World War he starts to produce works that have writing as basis, assuming that the ideal form to unite people is language. During his relentless quest to conceive universal signs, he comes to make monumental pieces, but also starts using original materials or tries to establish a real "semiology" of art. Passed away in June 2020, he will have never stopped creating throughout his life, and his participation in Art for All proves once again his dedication to designing works for everyone.
Description
The Work
"One of the great conquests of contemporary art is to have seen writing as such, recognizing its specific plasticity. Quentin is one of those who has drawn the most from it, meaning artworks. Everything he has created in this hollowness of our modernity refers to the landmark in the world that is writing."
Jean-Clarence Lambert (Quentin, des graffitis aux Monuments, 1991)
When the world becomes earth and earth becomes the world … A poetic breeze accompanies the work of Bernard Quentin. Poetic since his works mirror plays on words and playful signs. But where do they start? In the word or in their shape? In the sounds or in the calligraphy? Is it inside or outside? Earth destroyed, earth multiplied.
In the "Art For All" collection, Bernard Quentin's semiotic art takes the shape of a silver globe, where the words in perspective cradle in the palm of our hands. Our precious earth, both cradle of humanity and land of opportunities, is universal, in this case the artist could not have given a better tribute for the "Art For All" collection.
Edition "ART FOR ALL" by Loft Gallery,
Cast metal,
D. 8 cm – 1 1 50 gr.
Signed at the bottom and numbered 500 copies.
Dim. of the box : 9 x 10 x 10 cm.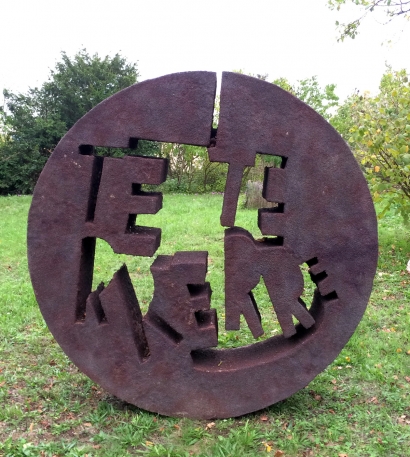 Terre monumentale, 1990, acier Corten, D. 200 x P. 50 cm, coll. de l'artiste.
Additional information
| | |
| --- | --- |
| Weight | 1150 g |
| Dimensions | 8 × 8 × 8 cm |
| Year | 2019 |
| Material | Cast iron |
| Tirages | Edition of 500 |
| Signature | Engraved signature |
oeuvres
Cet artiste vous propose aussi