Art is a language, a unique form of expression that allows artists to experiment as well as for the public to have intense and new feelings. Amongst these artists that have in the 20th century known how to question the world, there is a man who, in his 96th year of age, has preserved his desire to explore and continues to work on these ways to communicate. BERNARD QUENTIN was born in 1923 in Flamicourt (Picardie, France). After the Second World War he starts to produce works that have writing as basis, assuming that the ideal form to unite people is language. During his relentless quest to conceive universal signs, he comes to make monumental pieces, but also starts using original materials or tries to establish a real "semiology" of art. Passed away in June 2020, he will have never stopped creating throughout his life, and his participation in Art for All proves once again his dedication to designing works for everyone.
Description
The Work
In the 1960's, BERNARD QUENTIN creates his first inflatable sculptures (Cybules)after having realized that a 20th century artist should work with new materials of his time and try, with his vision of the world, to maybe modify it or create objects at an industrial scale. He will be the first designer to conceive inflatable armchairs, they will be shown in 1963 by the Iris Clert gallery in Paris during an exhibition that had futuristic ambitions (the sitting room of the year 2104), then at the New York international fair of 1964 before being mass produced by Plasteco Milano in Italy. In the process Bernard Quentin designed a set of inflatable architectures, cars and furniture including the"Croissant" (Half-Moon) Armchairreleased by Printemps which had been chosen to dress the bar of the French Pavilion at the Montreal Universal Exhibition in 1967 before joining the collections of the Center Pompidou. Bernard Quentin has always had the ambition to make art accessible to everybody, his works such as this "croissant" (Half Moon) armchair is in perfect accordance with the Art For All concept. It's very natural that these inflatable pieces joined the Art For All collection, especially as it symbolizes a historic turning point in the democratization not only of art but also of contemporary design.
—
Exhibition
Presentation of the permanent collections (contemporary collections), National Museum of Modern Art , Paris, France, 01 April 2007 – 01 April 2009
Building the air: Málaga, Center Pompidou Málaga, Spain, 8 November 2018-10 February
New waves: Toulon, Cercle naval de Toulon, France, June 27, 2019 – November 24, 2019
—
Edition "ART FOR ALL by Galerie Loft"
1963 – Ed. 2019
Inflatable PVC furniture
Colored PVC – orange, gold or silver
H. 60 cm x D.100 cm
H. of the seat : 30 cm
Titled, signed, dated and numbered, edition of 600 copies
Dim. of the box : H.24 x L. 43 x D. 14 cm
Inflate & Deflate Electric Air Pump inclus (230V, Type C)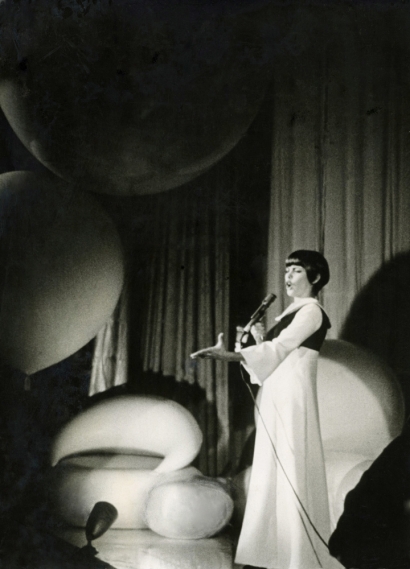 Mireille Mathieu in concert at the Waldorf Astoria, New York, 1967.
Decor and inflatable furniture by Bernard Quentin.
Additional information
| | |
| --- | --- |
| Dimensions | 60 × 100 × 100 cm |
| Year | 1963 |
| Material | PVC, PVC |
| Tirages | Edition of 600, Edition of 600 |
| Signature | Signed in the mold, Signed in the mold |
oeuvres
Cet artiste vous propose aussi