Claude Gilli is a major figure of the "École de Nice" (School of Nice) that had a considerable impact on French pop art. Born in Nice in 1938, he enters the School of applied arts of his hometown in 1955. In 1962, on New Year's Eve, he burns most of his early works. Close to the artists Albert Chubac, Martial Raysse, Ben, but also Arman, César, Farhi and Venet it's his encounter with Robert Malaval that will lead to different works that they made in common around "aliment blanc". Having obtained the Lefranc prize in 1966, he is shown at the exhibition "12 super realists" at the Del Leone gallery, Venice, where he discovers the works of American "pop" artists, Lichtenstein, Warhol, Wesselmann. In 1968 he starts working with Plexiglas and then continues with a series of paintings "aux escargots" (with snails). In the 1970's he moves to Paris and is also shown in numerous international exhibitions, one of them was dedicated to the school of Nice a the Pompidou Center, Paris. The degenerative disorder he was subject to finally caught up with him and obliges him to be in a wheelchair. He starts working tirelessly and develops works in cut iron, notably for outdoor pieces and monumental sculptures.
Description
The Work
In the 1980's, after meeting with Michel Roudillon, Claude Gilli starts working on steel sculptures. He progressively abandons woodworking to follow the path of cutting and welding steel. Many new perspectives open up to him, one of them is the possibility to conquer the outdoors by makingmonumental sculptures. His cuttings, incredible three dimensional landscapes in layers and painted in blue, green, yellow and pink are anexplosion of colours and materials recalling the pop tendency of the "Nouveaux Réalistes" and a composition in the same vein as Wesselmann. He may figure feminine nudes, bottles or layered Mediterranean landscapes, they all remind us of Nice, the blue sky of the Riviera, that will always be tied to Claude Gilli's work.
—
Edition ART FOR ALL by Galerie Loft
Painted cast metal
H.16 x L. 13 x P. 3 cm – 550 gr.
Signed in the mold and numbered in 500 copies.
Dim. of the box  (with protective case) : H. 22,5 x L. 16 x P. 5 cm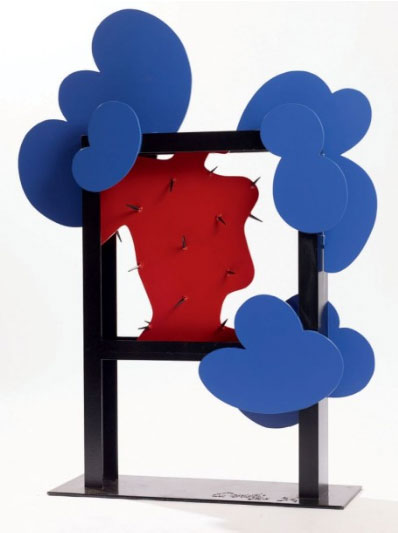 Claude Gilli, Femme à clous, 1990, steel and welded cut metal, unique piece, H.152 x L.118 x P.31cm.
Additional information
| | |
| --- | --- |
| Weight | 550 g |
| Dimensions | 16 × 13 × 3 cm |
| Year | 2019 |
| Material | Cast iron, Cast iron |
| Tirages | Edition of 500, Edition of 500 |
| Signature | Signed in the mold, Signed in the mold |
| Dim. de la boite | H. 22,5 x L. 16 x P. 5 cm |