The Black God (Electric blue)
With his well-known comic books Lone Sloane or Xcalibur, his participation to the iconic comic magazines Pilote or Humanoïdes Associés, the elaboration of 3D animation and even drawing and making entire film sets, Philippe Druillet (born in Toulouse in 1944) has pulled us into his own universe and opened new windows to the "9th art". His contribution to the renewal of the composition and redefinition in the outlining in the first comic strips that he creates at the end of the 1960's, have profoundly nourished and modified the comic book world, but also that of illustration, cinema and video games. He is a unique author who will influence Jean Giraud in the evolution of his alter ego Moebius and Georges Lucas in the graphic conception of Star Wars. As a pioneer artist he is one of the milestones of our visual universe. A true genius of comic book making and a myth in the universe of science fiction, he is still today a great source of inspiration and a major influence to entire generations.
Description
The Work
«In the year 804 of the New Era, after the Great Horror, men decided to extend their power over the whole universe, the infinite river of stars was to bear the seal of human empire forever. Then the great iron caravans set off to conquer the sky… ». The tone is set. Lone Sloane, an unavoidable character from the «Druillet mythology», has just been born and is ready to set off in search of the planet Earth. This quest will lead him on the road to the «Throne of the Black God», an object fashioned by the gods, thanks to which he becomes a half-god. Abducted to serve as a body for the resurrection of the Black God, a god of darkness with dark designs, Lone Sloane will finally defeat the evil by multiplying himself infinitely and pronouncing the cosmic word that had been revealed to him by the King of the Gods. This metaphor of man who manages to annihilate evil by the sheer force of his will was materialised a few years later by Philippe Druillet. This figure, composed both as a pyramidal and a square metal mausoleum is like Pandora's box, the receptacle of our craziest desires, our fears and our weaknesses, the symbol of the obstacles to be overcome, in order to better transcend ourselves.
—
Edition "Art For All" by Galerie Loft Paris
1990 – Edition 2020,
Painted cast metal,
Dim. of the box : 15.5 x 18 x 17.5 cm,
Certificate of authenticity included.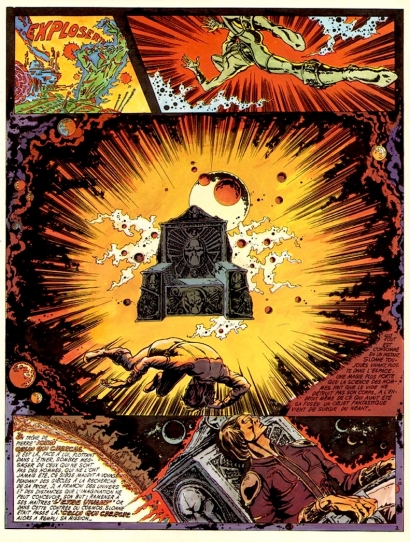 Philippe Druillet, "The throne of the Black God",
The 6 voyages of Lone Sloane, Editions Dargaud, 1972.
Additional information
| | |
| --- | --- |
| Weight | 1270 g |
| Dimensions | 12,5 × 12,5 × 12,5 cm |
| Year | 1990 |
| Material | Cast iron |
| Tirages | Edition of 500 |
| Signature | Engraved signature |
| Dim. de la boite | H. 15,5 x L. 18 x P. 17,5 cm |
oeuvres
Cet artiste vous propose aussi