Mini Michelin China – Gold
Born in 1974 in Jingdezhen, a city that has been considered for centuries as the world capital of porcelain, LI LIHONG started his training of the arts of ceramics at a very young age under the supervision of the great master Qin Xiling. Even if his work finds inspiration in the traditional royal porcelains, that have made the reputation of his village, Li Lihong conceives his works with a completely contemporary approach. He reinvents Chinese porcelain in a radical manner; after having taken in all the different international influences (publicity, consumer society…) that the Chinese assimilated after the implantation on their territory of worldwide firms such as Coca-Cola or Mac Donald's in the 1980's. With these hybrid works of art Li Lihong transcribes all the ancestral quality of traditional Chinese porcelain now affixed to new shapes born from the meeting of east and west, creating genuine modern icons, that are surprising, fragile and poetic.
Description
The Work
"Even the workers who do the smallest tasks accomplish an important work every day."
François Michelin, Michelin Special Edition, Ed. La Montagne, 2007
At the crossroads of cultures and worlds, Li Lihong never ceases to surprise us with his hybrid figures that emerge from the encounter of art and contemporary iconography.
His latest work Michelin China finds its shape in both religious art and publicity. In a state of meditation, the Michelin mascot, famous icon of the French brandthat brings to mind throughout the world, gastronomic excellency and luxury, is now portrayed as a Buddha. His impassive face, practically fading away as the fea- tures underline a serene face that inspires a profound feeling of calm and relaxation that contrasts with the high sense of parody that comes from the cultural clash. In such, the colors and patterns that ornate this work relate either to temple idols or to ancient Chinese pottery reminding us how much Li Lihong is a master at creating bridges between the ancient and the contemporary. The artist brings a smile to our face as he also makes our mind wonder as he takes us to the heart of his universe with this new work that is to be included in the Art For All collection. An incredible concentration of delight.
—
Édition "ART FOR ALL" by Galerie Loft,
2020, Painted metal cast,
Blue clouds patterns,
H.10 x L. 9 x P. 8 cm – 855 gr.
Signed below and numbered in 999 copies
Dim. of the box (with protective case) : H.11 x 15 x 15 cm.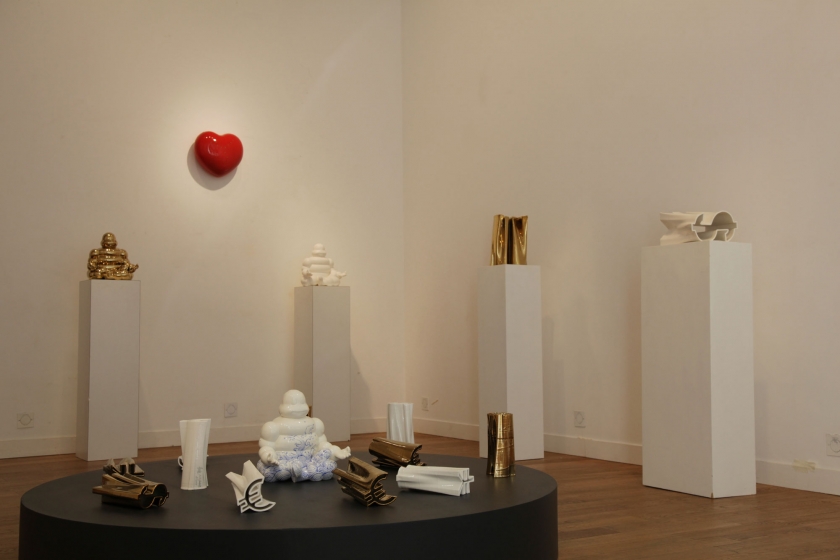 Li Lihong, Exposition Ceramic Trip at Galerie LOFT, May 2020.
Additional information
| | |
| --- | --- |
| Weight | 855 g |
| Dimensions | 10 × 9 × 8 cm |
| Year | 2020 |
| Material | Cast iron, Cast iron |
| Tirages | Edition of 999, Edition of 999 |
| Signature | Engraved signature, Engraved signature |
oeuvres
Cet artiste vous propose aussi