Born in 1974 in Jingdezhen, a city that has been considered for centuries as the world capital of porcelain, LI LIHONG started his training of the arts of ceramics at a very young age under the supervision of the great master Qin Xiling. Even if his work finds inspiration in the traditional royal porcelains, that have made the reputation of his village, Li Lihong conceives his works with a completely contemporary approach. He reinvents Chinese porcelain in a radical manner; after having taken in all the different international influences (publicity, consumer society…) that the Chinese assimilated after the implantation on their territory of worldwide firms such as Coca-Cola or Mac Donald's in the 1980's. With these hybrid works of art Li Lihong transcribes all the ancestral quality of traditional Chinese porcelain now affixed to new shapes born from the meeting of east and west, creating genuine modern icons, that are surprising, fragile and poetic.
Description
Artwork
« There was a period of time when they estimated the two biggest stars in Hollywood were Charlie Chaplin and Mickey Mouse. »
John Lasseter
As he takes into consideration the great symbols of our time, Li Lihong comes to explore some of the greatest icons of our time, in this case the most famous of mice whose figure has become in less than a century a uni- versal symbol linked to childhood and nostalgia.
His Mickey-China resumes the outline of the famous ears, that have now become the brand of the Disney empire, transposing them in a harmoniously rounded sculpture, dipped at its base in a swirl of waves. The work hence symbolises the encounter of Nature and Culture, both ancestral and in constant movement.
In this Art For All piece, Li Lihong concentrates all the potential of his work in an accessible format, giving us what he does best, an amusing view of today's world instilled with the irony and harmony of his art.
–
2018
Painted cast metal – Gold color White and blue dragon pattern
H. 6.2 x D. 5 cm – 435 grams
Edition of 300 copies
Signed below
Dim. of the box : L. 8.5 x P. 8 x H. 7 cm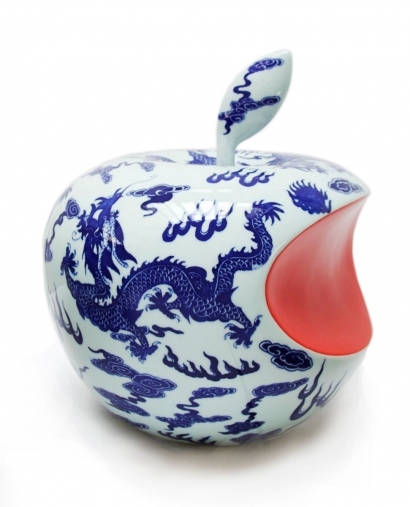 Li Lihong, Apple China, 2008, D. 32 cm, painted porcelain, ed. LOFT at 300 ex.
Additional information
| | |
| --- | --- |
| Weight | 435 g |
| Dimensions | 6.2 × 5 × 5 cm |
| Year | 2018 |
| Material | Cast iron, Cast iron |
| Tirages | Edition of 300, Edition of 300 |
| Signature | Engraved signature, Engraved signature |
oeuvres
Cet artiste vous propose aussi