Born in 1974 in Jingdezhen, a city that has been considered for centuries as the world capital of porcelain, LI LIHONG started his training of the arts of ceramics at a very young age under the supervision of the great master Qin Xiling. Even if his work finds inspiration in the traditional royal porcelains, that have made the reputation of his village, Li Lihong conceives his works with a completely contemporary approach. He reinvents Chinese porcelain in a radical manner; after having taken in all the different international influences (publicity, consumer society…) that the Chinese assimilated after the implantation on their territory of worldwide firms such as Coca-Cola or Mac Donald's in the 1980's. With these hybrid works of art Li Lihong transcribes all the ancestral quality of traditional Chinese porcelain now affixed to new shapes born from the meeting of east and west, creating genuine modern icons, that are surprising, fragile and poetic.
Description
Artwork
As he explores the cultural and social impact between east and west Li Lihong starts in 2007 several series of ceramics such as "Mac Donald's – China" or "Nike – China". These works will project him on the international artistic scene. His apple "Apple – China", is clearly one of his most famous works. In transforming the logo of the famous American company into sculptures, that are either silver or gold, adorned with traditional Chinese patterns (dragons, clouds…), he symbolizes perfectly the complex relations of these two great economical powers, between confrontation and fusion, dialogue and contradiction.
In this Art For All piece, Li Lihong has made and edition of this mythical work in an accessible format, proving us how much the message carried out in his work isn't limited to size and in this case can even be concentrated in the palm of our hands.
–
2018
Painted cast metal – Gold color White and blue dragon pattern
H. 6.2 x D. 5 cm – 435 grams
Edition of 300 copies
Signed below
Dim. of the box : L. 8.5 x P. 8 x H. 7 cm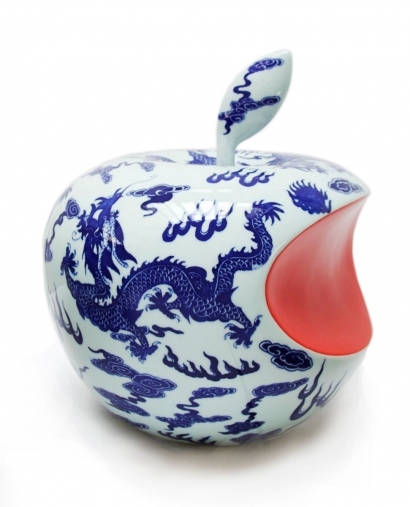 Li Lihong, Apple China, 2008, D. 32 cm, painted porcelain, ed. LOFT at 300 ex.
Additional information
| | |
| --- | --- |
| Weight | 435 g |
| Dimensions | 6.2 × 5 × 5 cm |
| Year | 2018 |
| Material | Cast iron, Cast iron |
| Tirages | Edition of 300, Edition of 300 |
| Signature | Engraved signature, Engraved signature |
oeuvres
Cet artiste vous propose aussi