ANGEL BEAR Special Edition 24K Gold Plated
Richard TEXIER born in Niort in 1955 is a painter and sculptor. He moved to Paris to study architecture and wrote a thesis entitled Constructions from nature, close to the theories of Land Art before presenting a thesis in visual arts at the Sorbonne in 1981. After leaving for the United States, he set up a principle of Nomadic studio by multiplying his workspaces in France and around the world (New York, Moscow, Yangon …). In 2004 he set up a studio in Shanghai to immerse himself in the mythical animals of Imperial China. His works explore the theme of Elastogenesis, elasticity of the imaginary (Manifesto published by Fata Morgana in 2018) to invent fluid and light sculptures, bordering on the the immaterial. He then created monumental works visible in many cities, including the hybrid bear Angel Bear, installed on the forecourt of the north train station in Paris. He has also published five books with Gallimard editions.
Description
«Angel Bear is a totem, a warning message for all humans», Richard TEXIER.
A few years ago, overwhelmed by the photograph of a polar bear drifting on a piece of ice floe and destined to death, Richard Texier imagined Angel Bear, a bionic and hybrid winged bear. This mythical animal more than 7 meters high, whose existence is threatened by global warming, refers to our world that constantly changing but also refers symbolically to our childhood comrade. When the artist places it on its majestic base on the forecourt of the Gare du Nord, a place where nearly 700 000 people pass every day, the bear comes to catch travelers to deliver them a silent message about the fragility of the world and the climate issues. By giving it a red skin, it emphasizes the message of alert and danger that it releases and underlines the nature of this being who, like humans, is both powerful and fragile. Texier's ultimate dream is for this work to "find life within the human community". By including this sculpture in the ART FOR ALL collection, the artist is now taking a further step towards this wish, by offering everyone the opportunity to acquire this piece with decisive stakes and symbolism.
Edition "Art For All",
2015 – Ed. 2021,
Painted cast metal – 24K Gold Plated
H.22 x L.18 x P.16,5 cm – 1080 gr.
Signed on the side and numbered 600 copies.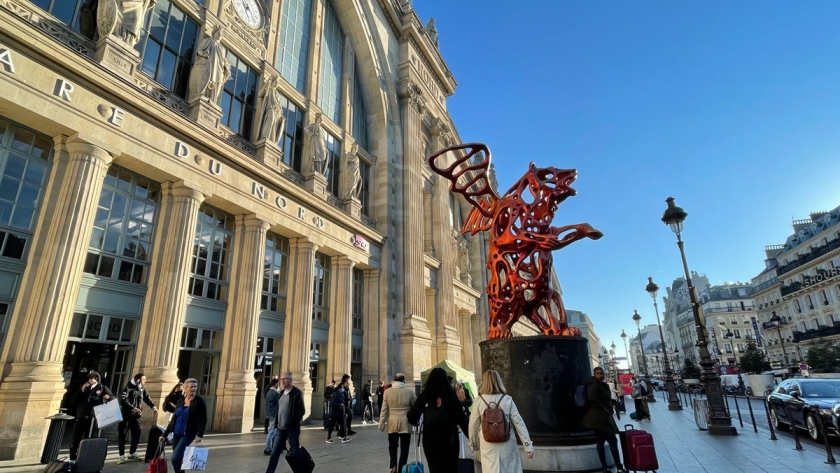 Angel Bear H.7m, Richard Texier, Gare du Nord
Additional information
| | |
| --- | --- |
| Weight | 1080 g |
| Dimensions | 18 × 16.5 × 22 cm |
| Year | 2015 |
| Material | Cast iron, Cast iron |
| Signature | Engraved signature, Engraved signature |
| Tirages | Edition of 600, Edition of 600 |
oeuvres
Cet artiste vous propose aussi