ANGEL BEAR Special Edition 24K Gold Plated
Richard Texier is a painter and a sculptor born in Niort in 1955. He comes to Paris to study architecture and writes a thesis entitled Constructions from nature that is close to the theories of Land Art, later in 1981 he will present another thesis in Fine Arts at the Sorbonne. After having left for the United States, he establishes the principle of Nomadic Studios multiplying his work spaces in France and throughout the world (New-York, Moscow, Shanghai, Rangoon). In 2004, he sets up a studio in Shanghai to better impregnate himself of the mythical animals of Imperial China. His works explore Elastogènese theory he invented that explores the elasticity of imagination (Manifesto published with Fata Morgana in 2018) enabling him the invention of fluid and light sculptures, at the edge of intangibility. Following this he then made monumental works in many towns, such as the hybrid Angel Bear at the entrance of the Gare du Nord train station in Paris. He has also written five books with the publisher Gallimard.
Description
« Angel Bear is a totem, a message to alert all men. »
Richard Texier.
A few years ago shaken by the photography of a polar bear drifting on an iceberg, destined to certain death, Richard Texier imagines Angel Bear a hybrid and bionic winged bear. This mystical animal over 7 meters high, of whom the existence is threatened by global warming, relates to our world in constant evolution but also offers a symbolic echo to our childhood companion. When the artist placed him on his majestic pedestal at the entrance of the Gare du Nord, the most important train station in Paris that sees 700000 people commute daily, the bear traps the attention of the travellers and delivers his silent message on the fragility of the world and climate change. Adorning him of a red skin accentuates even more his alert message and the danger it expresses underlines the nature of his being, that is like that of men, both powerful and fragile. Texier's ultimate dream is that this work may find it's on way amidst the human community.
Edition "Art For All",
2015 – Ed. 2021,
Painted cast metal – 24K Gold Plated
H.22 x L.18 x P.16,5 cm – 1080 gr.
Signed on the side and numbered 600 copies.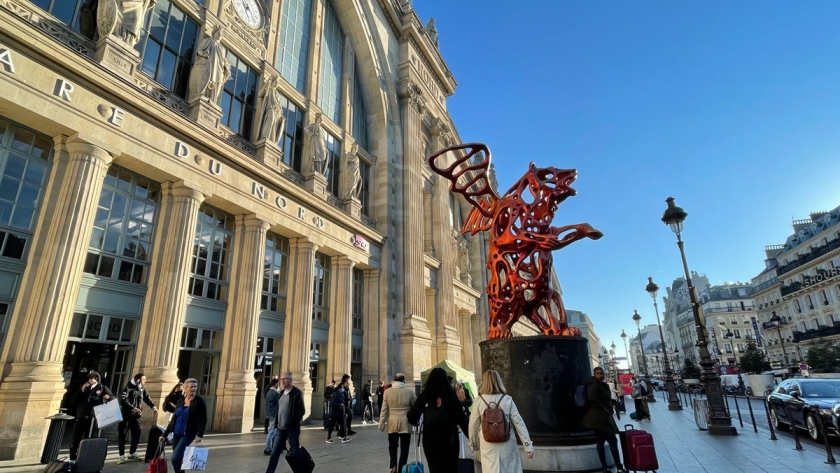 Angel Bear H.7m, Richard Texier, Gare du Nord
Additional information
| | |
| --- | --- |
| Weight | 1080 g |
| Dimensions | 18 × 16,5 × 22 cm |
| Year | 2015 |
| Material | Cast iron, Cast iron |
| Signature | Engraved signature, Engraved signature |
| Tirages | Edition of 600, Edition of 600 |
oeuvres
Cet artiste vous propose aussi