Parvine Curie was born in Nancy in 1936, of French-Iranian origin. After her studies she left to visit Europe and decided to settle in Barcelona in 1957, discovering Catalan art. She practiced sculpture as an autodidact, following the advice of sculptor Marcel Marti with whom she had a son, David in 1959. In 1970, she moved to Paris and presented at the young sculpture salon, the work Première Mère, which marked the sculptor François Stahly. He invites her to come and work alongside him at the collective workshop in Crestet (Vaucluse). Parvine learns the basics of the trade, sculpts wood and stone. She married Stahly in 1975 and subsequently carried out numerous public commissions. Her work, which was initially more hieratic, then evolved into a more dynamic style. Her sculptures, between figures and architecture, and strongly inspired by the places she visited, are marked by pure lines and materials and testify to her constant desire to question space and light.
Description
Launching price : 500€
"When I discovered sculpture, I found a kind of strength that pushed me to define a form that is close to a "mother compartment", both architecture and character. I don't do abstract sculpture. I have always looked for the human in sculpture", Parvine Curie, interviews with Scarlett Reliquet.
Parvine Curie's works have a double essence, that of an intimate monumentality that imposes itself through its forms, as much as it attracts and reassures us. While her practice of sculpture has evolved over a life rich from traveling and discovery, she has never stopped to embody her great sensitivity as a woman and a mother. It is therefore no coincidence that many of her works fit into this theme. Her "Mères (Mothers)" are real spaceships that symbolize the transcended, powerful and protective mother.
In the work L'enfant abrité (the Sheltered Child), we particularly feel this force. Her attachment to the stripping of forms in fact evokes a refuge as much as the comforting presence of a united family, and one cannot help but have a touched thought for his son, the poet David Marti, who died in 2007. The choice to include this work in the collection "Art For All" is therefore not trivial. It proves once again the richness of contemporary sculpture and its impact on our current society.
2007 – Ed. 2021,
Painted cast metal Black or white
H. 14 x W. 14 x D. 11 cm – 2700 g.
Signed on the side Numbered at 300 ex.
Dimensions of the box with protective case: H. 20 x W. 20 x D. 15 cm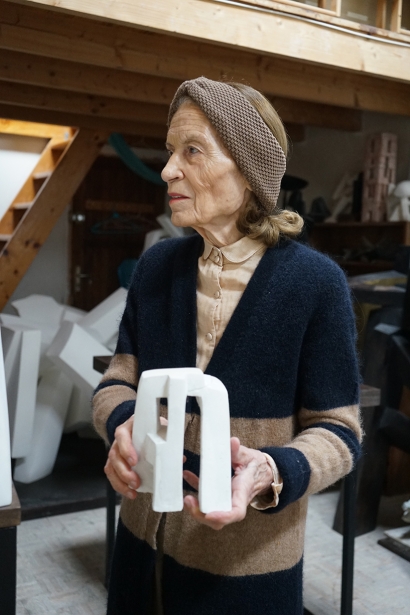 Artist with the sculpture "L'enfant abrité" , 2021
Additional information
| | |
| --- | --- |
| Weight | 2700 g |
| Dimensions | 14 × 14 × 11 cm |
| Material | Cast iron, Cast iron |
| Signature | Engraved signature, Engraved signature |
| Tirages | Edition of 300, Edition of 300 |
| Year | 2015 |
oeuvres
Cet artiste vous propose aussi