Born in Montmartre in 1925, Philippe Hiquily is a very singular artist, sculptor, but also creator of furniture, jewellery, etchings and experimental kinetic and electronic works. The main axis of his work is to play with shapes and balance but also the "coupling" of sculptures and objects. May they be in iron, brass or steel there are always principles behind his sculptures, art must be funny, playful and esthetical. Movements, curves and materials are as many ways to give life to metal that is metamorphosed in an erotic object. From New York to Paris, museums of tribal art to the salon of French aristocracy, this lover of women, protégé of Germaine Richier, friend of Arman, César, Jodorowsky or Alain Jouffroy, this very convivial and great cigar lover, Officer of the National Order of Arts and Letters, has always known, throughout his life, how to completely overwhelm our view of sculpture.
Description
The Work
"To introduce the movement is to create life"
Philippe Hiquily.
Movement has always been a key question in Philippe Hiquily's work. In the same line of thought of his mo- biles and fountains, that he already starts creating at the end of the 50's, he makes in 1963 a trio of monumental weathervanes of 12 meters high that he installs on the beach of Elvira (Marbella, Spain). Work that he then reinterprets 30 years later when asked by the city of Shanghai to make a monumental project on the oc- casion of the World Expo 2010. After the success that this work meets, the artist conceives a series of wea- thervanes, such as Girouette Hiver (Winter Wather- vane) that he will make in the high of 5 meters. In front of these mobile works our relationship to sculpture if completely upturned. Our aesthetic experience is not only lived thru contemplation but also by our partici- pation. The artist invites us to play with the work, thus mocking the instructions « do not touch » common in the art world. As it joins the Art For All collection next to the Marathonienne and the Épicurienne, the weathervane is declined in a very accessible format of 18 cm high that still preserves the poetry and magic of her monumental equivalent, and more than ever her playfulness.
—
Edition "ART FOR ALL" by Galerie Loft
2011 – Ed. 2020
Black painted stainless steel
H.18 x 12 x 7 cm- 85 gr.
Signed at the bottom and numbered 1000 copies.
Box dimensions (with protective case):  H. 23 x L. 17 x W. 9 cm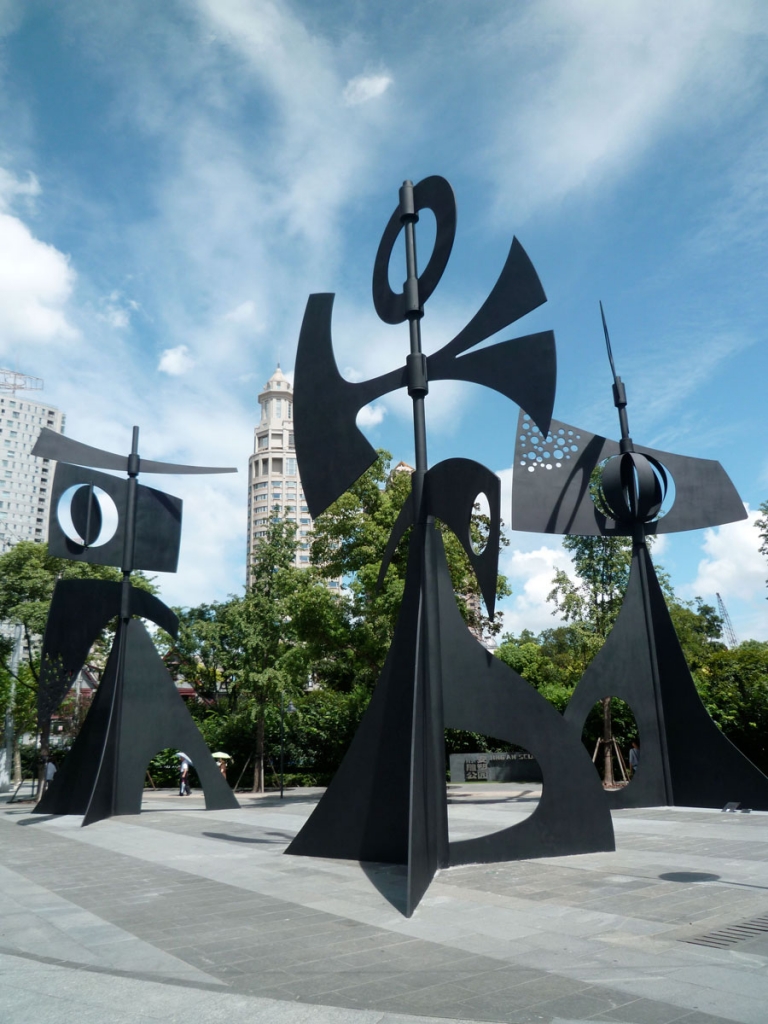 Marbella-Shanghai Weathervane, 1963-2009, H.21m, Epoxy painted steel movable, China, 2010
Additional information
| | |
| --- | --- |
| Weight | 85 g |
| Dimensions | 18 × 12 × 7 cm |
| Year | 2011 |
| Material | Black painted stainless steel, Black painted stainless steel |
| Signature | Signed Hiquily, Signed Hiquily |
| Tirages | Edition of 1000, Edition of 1000 |
oeuvres
Cet artiste vous propose aussi