A thousand-facets artist with an ancestral soul Yazid Oulab seems to be nourished by centuries of civilizations. He is an interpreter and a messenger capable of analyzing and translating into simplified objects millennia of cultural, social and spiritual history. Son of a worker-mechanic-farmer father and a French teacher mother, Yazid Oulab is a real "storyteller. He is the accomplished artist, a man who, far from the excesses of today's society, would always be ready to sacrifice his newly gained fame to art. He is a craftsman who is in love with the gesture, a fascinated and fascinating poet for whom the gaze generates meaning, a tireless witness and a potentially omniscient one. His works – objects, installations, sculptures and videos – represent tools of expression and communication that encourage us to consider the plurality of our times and measure the historical influence of all things.
Description
The Work
The element that highly symbolizes the work of Yazid Oulab is very probably the "Alif". The "Alif" is the link between the gesture and the spirit, but also between the different worlds and eras that inspire the artist, not only Western culture with mysticism of Judeo-Christian but also Arab culture. "Alif" is the first letter of the alphabet, the first letter of the name of Allah and also the first syllable of the verb "to read, to learn", a sign of transmission of the divine word and knowledge. This small fundamental object of architectural constructions is also present in many mythologies, symbolizing destiny among the Greeks, protection among the Chaldeans and power among the Gauls. It is also the source of the oldest form of writing, the cuneiform writing of the Mesopotamians. The nails of Yazid Oulab are real pretexts for questioning the place of man in the universe, in the confrontation with cultures, eras and beliefs from which he is built or defined. For Art for All Yazid Oulab realizes a new version of his work, multiplied and sublimated in an equally symbolic trinary form.
—
Edition"ART FOR ALL",
2012 – Ed. 2020
Silver plated cast iron,
H. 3.7 x L. 13 x D. 12 cm – 405 gr.
Signed on one of the elements and numbered 500 copies.
Dimensions of the box (with protective case): H. 16 x 16 x 9 cm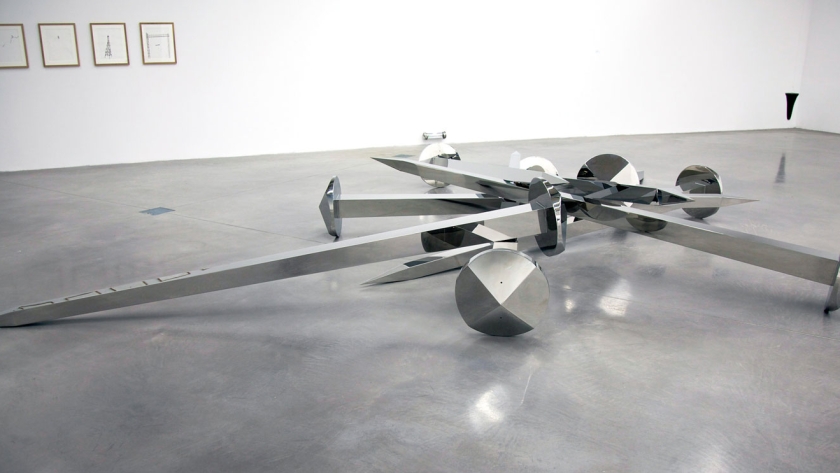 Yazid OULAB, Alif, 2012, set of 8 polished stainless steel nails L. 350 cm, ed.
8 ex.
+ 4 E.A., exhibition Yazid Oulab, FRAC P.A.C.A, 2013
Additional information
| | |
| --- | --- |
| Weight | 405 g |
| Dimensions | 3,7 × 13 × 12 cm |
| Year | 2012 |
| Material | Cast iron, Cast iron |
| Signature | Signed with the artist's stamp, Signed with the artist's stamp |
| Tirages | Edition of 500, Edition of 500 |