Born in Córdoba (Argentina) in 1934, Antonio Seguí studied in France and Spain in the early 1950s then traveled through Europe and Latin America. In 1963 he represented Argentina at the Paris Biennale and settled permanently in the Parisian capital. In his works, on the fringes of Pop Art and New Figuration, the realism is essential, but it is a "fairy" realism, imbued with the warm colors, noise and crowds of the great cities of Latin America. On multiple media, from painting to photography and from lithography to monumental sculpture, he deals with humor, irony and the bubbling spectacle of urban life, building a kind of theater on the stage with a man in motion frolic looking for his place in the world. A whole gallery of different characters are deliberately simplified, as if to give them more freedom and a falsely naïve and utopian dimension
Description
The Work
« A great part of my work is the historical reconstruc- tion of my childhood. In Argentina, when I was younger, during the war all the toys that use to come from Japan and Europe disappeared and people started to invent wooden painted toys to sell them on the market. Bet- ween 1965 and 1968 I prepared an exhibition for the Jean Boucher and Claude Bernard galleries with works that were more or less a sort of reproduction of all those folkloric toys ».
Antonio Seguí, August 2009.
With these figures that bare plain features strolling amidst the centres of large cities Antonio Seguí de- picts with humour the comedy of life Naturally I like to inspect the individual's inner side, understand his conflicts, show his joys he says.
If part of the elements he offers in his works is linked to his own story (such as the man always wearing a hat, a common Male sign in all social classes in Argentina), it is more important for him to leave the viewers the care of building their own story. The modern man he depicts with pleasure and irony, in a rush and very urban, escapes from the day-to-day life by baring bright colors in his quest of happiness and humanness.
—
Édition "Art For All",
2012 – Ed. 2020,
Painted metal cast,
H. 13.5 x L. 16 x D. 4.5 cm – 450 gr.
Signed on the base and numbered 999 copies.
Dimensions of the box (with protective case): H. 18.5 x L. 20 x D. 6.5 cm.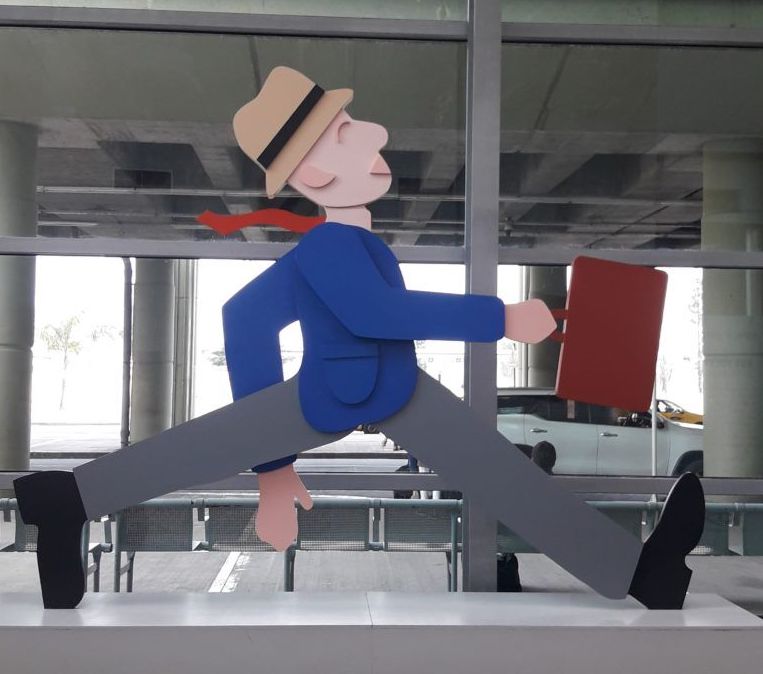 Antonio Seguí, Voy volando, 2017, Painted wood, H. 250 cm, Monumental sculpture installed at Ingeniero Ambrosio Taravella International Airport in Córdoba (Argentina).
Additional information
| | |
| --- | --- |
| Weight | 450 g |
| Dimensions | 14 × 16 × 4 cm |
| Year | 2012 |
| Material | Cast iron, Cast iron |
| Signature | Engraved signature, Engraved signature |
| Tirages | Edition of 999, Edition of 999 |
oeuvres
Cet artiste vous propose aussi