Art is a language, a unique form of expression that allows artists to experiment as well as for the public to have intense and new feelings. Amongst these artists that have in the 20th century known how to question the world, there is a man who, in his 96th year of age, has preserved his desire to explore and continues to work on these ways to communicate. BERNARD QUENTIN was born in 1923 in Flamicourt (Picardie, France). After the Second World War he starts to produce works that have writing as basis, assuming that the ideal form to unite people is language. During his relentless quest to conceive universal signs, he comes to make monumental pieces, but also starts using original materials or tries to establish a real "semiology" of art. Passed away in June 2020, he will have never stopped creating throughout his life, and his participation in Art for All proves once again his dedication to designing works for everyone.
Description
Œuvre
« C'est l'une des grandes conquêtes de l'art contemporain d'avoir su voir l'écriture en elle-même, lui reconnaître une spécificité plastique. Quentin est de ceux qui en ont tiré le maximum de conséquences, c'est-à-dire d'œuvres. Tout ce qu'il a créé dans cette béance de la modernité renvoie à ce marquage du monde qu'est l'écriture. »
Jean-Clarence Lambert (Quentin, des graffitis aux monuments, 1991).
Quand le monde devient terre et la terre devient monde… Un air poétique souffle sur l'œuvre de Bernard Quentin. La poésie, à l'image de ses œuvres est un jeu de mots, un jeu de signes. Mais où commencent-ils ? Dans le mot ou dans sa forme ? Dans le son ou dans ses lignes ?
Se trouve t-il à l'intérieur ou à l'extérieur ? Terre déconstruite, terre multipliée.
Pour Art for All, l'art sémiotique de Bernard Quentin prend la forme d'un globe argenté, dont les mots se dessinent en perspective au creux de nos mains. Cette terre si précieuse, à la fois berceau de l'humanité et monde des possibles, est universelle, et l'artiste n'aurait pu rendre plus bel hommage à cette collection d'art pour tous.
Édition "ART FOR ALL" par la Galerie Loft
Fonte de métal doré
D. 8 cm – 1150 gr.
Signé en bas et numéroté à 500 ex.
Dim. de la boite : H. 9 x L. 10 x P. 10 cm.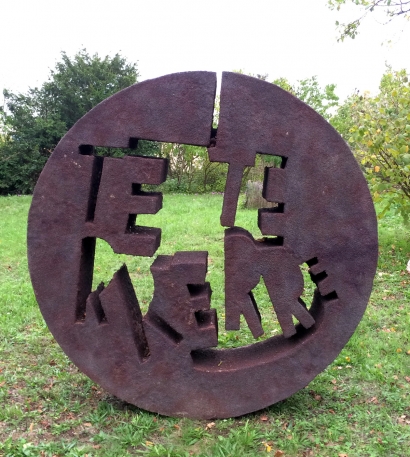 Terre monumentale, 1990, acier Corten, D. 200 x P. 50 cm, coll. de l'artiste.
Additional information
| | |
| --- | --- |
| Weight | 1150 g |
| Dimensions | 8 × 8 × 8 cm |
| Year | 2019 |
| Material | Cast iron |
| Tirages | Edition of 500 |
| Signature | Engraved signature |
oeuvres
Cet artiste vous propose aussi